Posted:
January 11th, 2015 |
No Comments »
Frederick Gordon's hotel group once owned some of the best hotel properties in London, across England's resorts and on the continent. A self-made Brit, Gordon made a big deal about working to attract the American traveler to Europe and building hotels that appealed to them. However, his Gordon Hotel Group's premier flagship property was The First Avenue in Holborn, which opened in 1883 and survived until 1940 when it was completely gutted and destroyed by the Luftwaffe in the Blitz (as ever, thanks Germany!!). The hotel's name shows how keen Gordon was to attract American patronage – below is a picture of the exterior of the hotel from the First World War (thanks again Germany!!) showing the bunting with American flags.
However, maybe Gordon had a Chinese fascination going on – just check out the Chinese entrance hall of The First Avenue Hotel (in 1900) complete with moon gate, Chinese roof tiles and Qing Dynasty furniture. Never did a London hotel (or a Chinese one for that matter!!) have such a Chinese lobby!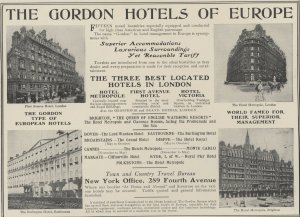 ---