Posted:
May 14th, 2013 |
No Comments »
Saturday 18th May 2013
10am start
The meeting point will be advised with booking confirmation.
Finish time approximately 12 noon
SVEN AARNE SERRANO
with BETTY BARR
A Walk to D, E, F Blocks and the Dew Drop Inn
The Lunghwa C.A.C. site today
WALK:  Sven will guide RAS members and guests on a short one hour tour of the Shanghai Middle School/SHSID campus, located at 989 Baise Road, next to the Shanghai Botanical Gardens. Sven will take the tour to see the six surviving buildings from the Lunghwa C.A.C. site including the former D, E, F Blocks, the Assembly Centre, the former Guards barracks, and the Commissary.

Sven Aarne Serrano, Faculty, History Dept at Shanghai High School International Division, b. 1958, San Diego, California.The perfect Shanghailander, dual national Sven is married to a local Xuhui girl, and works at SHSID, the former site of the WWII Lunghwa Civil Assembly Center. He moved to Shanghai in 2008 after working for 17 years in Osaka, Japan where he taught English at Kindai University.
Sven is now developing a phone app project that will meld old photographs of Shanghai Middle School and their current views so future visitors to the campus can easily access the past.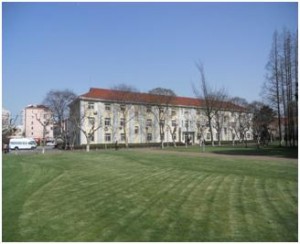 RSVP: to RAS Bookings at: bookings@royalasiaticsociety.org.cn
WEBSITE: www.royalasiaticsociety.org.cn
N.B. This RAS Weekender will be a limited number participation event – maximum 20 participants on a first come first served basis.
Priority for RAS Members.
ENTRANCE: 100 rmb (RAS members) and 200 rmb (non-members).
MEMBERSHIP applications and membership renewals will be available at this event.

---