Posted:
July 8th, 2018 |
No Comments »
Whenever I come on a tour of anywhere talking about old China and books I always come across various interesting titbits I never knew that seem to suit this blog. And so it is with this July's US book tour for City of Devils. First stop is Seattle and Elliot Bay Books. I'm staying in the University District to the north of the downtown area, around the marvellous buildings of the calm and peaceful University of Washington. I did not know that the genesis for the university's vast campus was the site for the 1909 Yukon-Alaska EXPO, the World's Fair aiming to highlight the Pacific Northwest, an area perhaps then more in people's minds given it was barely a decade since the Klondike gold rush.
As with most EXPOs a large number of temporary buildings crowded the site – most were slapped up and so not meant to be permanent (as is the way with EXPOs) but a few of the major structures remained and became some of the core buildings of the UofW today.
There was a Chinese Village (sometimes referred to as a "Oriental" pavilion) and it sadly didn't survive. Still three million people passed through it in 1909. The development and management of the Chinese Village was handled by Ah King (1863-1915), a successful Chinese merchant in Seattle. The "village" featured three buildings, including a Chinese temple, a restaurant, and a theatre with acts that changed daily. There's a lot more details and images about the Chinese village here.
There was also a Japanese village. Ah King wasn't expecting to make a profit though it apparently did (just about). Interestingly the Japanese village made about the same revenues as the Chinese village despite a) being paid for by the Tokyo government rather than local Japanese-American entrepreneurs and b) the fact that there were many more Japanese people than Chinese in Seattle and the Pacific Northwest in 1909.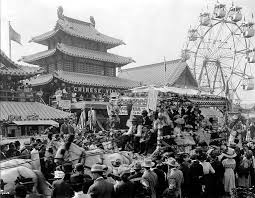 ---