Posted:
July 9th, 2017 |
No Comments »
'Shanghai this and Shanghai that'…so true now, and then – 1933 to be exact. Of course Shanghai Madness was not Spencer Tracey's best movie by a long way and Shanghai Orchid never got made.
However, the article was right – audiences had seen Dietrich and Anna May Wong smoking in Shanghai Express (1932), Mack Sennet's Shanghai Love (1932), Mary Nolan in Shanghai Lady (1929), Richard Dix in Shanghai Bound (1927), Conrad Nagel in Ship From Shanghai (1930), Hichcock's East of Shanghai (1931) and an Anna May Wong movie called Streets of Shanghai (1927) as well as probably a few I've forgotten….
Throw Shanghai in the title and hope for the best….and we still had Shanghai Gesture and a whole bunch more to come.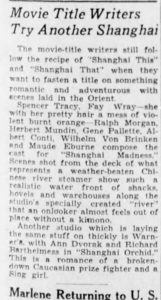 ---