Posted:
August 14th, 2016 |
5 Comments »
So, this advert from 1930 talks of Jean Lindsay selling ivory and bronze – Unusual "Things Chinese". This is interesting as I had always associated Jean Lindsay with tapestries, brocades, dresses and bags rather than curio items. Jean Lindsay was always at 22 Nanking Road, on the third floor of the Kelly & Walsh Building (after the famous Shanghai publishers). I've put a few examples of Jean Lindsay items below, but simply do a google image search and you'll come up with loads – most bags, dresses and accessories.
Jean Lindsay was really a ladies accessories shop and so I suppose the sideline of ivories and bronzes was just that, a sideline to the main business. It makes sense – Lindsay had a high end Shanghailander and rich Chinese clientele and, it seems, 1930s Shanghai (with it ocean liners of sojourners arriving daily) just couldn't get enough of curio and antique shops. I believe the curios were kept in a "Studio" adjacent to the main store. The Studio had regular exhibitions – for instance in 1935 the Studio hosted "Brass Ornaments of the Ming and K'ang Hsi Periods".
Jean Lindsay items can be partly (but not wholly – there were, you'll not be surprised to hear, fakes out there) identified by a label stating:  'Jean Lindsay, 22 Nanking Road, Shanghai'.
I'm afraid I don't know much about Jean Lindsay – beyond she must have been a woman of taste given the items below. I believe she was interned during the war though was married to a Chinese man called Yu. Anymore information of course greatly appreciated….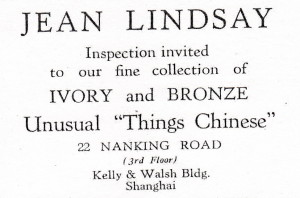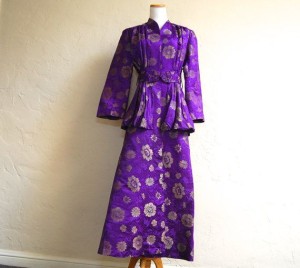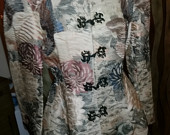 ---