Posted:
October 24th, 2014 |
1 Comment »
An interesting report from the China Tourism Academy (yes, you read that right, "an interesting report from the China Tourism Academy") cited on the WSJ's China blog about why China can't rejuvenate its tourism numbers from the 2008 (Olympics) high. For once it's quite an honest report that seems to seek the real problems – air pollution of course, toxic food chain, water quality, fears of terrorism of course. But they also cite lack of access for disabled visitors, which has been a long standing problem and also poor prservation. I'll quote at some length from the piece….
A state media report on the topic carried earlier this year by China Daily also cited experts who faulted the country's haphazard approach to historical preservation as a reason behind waning tourism enthusiasm. Across China, lanes built in a heavily reconstructed, faux-historical design selling identikit souvenirs are the norm, a disheartening phenomenon for tourists hoping for more of a sense the authentic.
"We have to value our local history and China's cultural heritage. That's what foreigners come to China to see, not soaring skyscrapers and wide streets, which can be seen in every Western country," the report cited Peking University's Wu Bihu, professor focusing on tourism development, as saying.
And yet here we are with Shanghai's Xintiandi still being lauded as a best in class example of preservation (!!) and Dongtai Lu antiques market (admittedly long degenerated to largely "selling identikit souvenirs") about to fall to the bulldozers for a series of "skyscrapers and wide streets."
Not that anything will change – property developers in league with the Party will remain the dominant force, so-called renovations will remain haphazard and ill-planned and badly executed…but at least nobody can say they weren't told.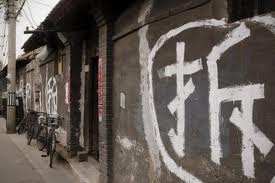 Not exactly an inducement to tourism
There was once a hutong over there, but don't worry you can't see anything anyway
---