Posted:
February 7th, 2014 |
2 Comments »
Took a trip out to the old WW2 codebreakers haunt at Bletchley Park the other day. The story of Bletchley, the big brains there and the Enigma codes is well known and, of course, the old Bletchley days have been in the news recently with the long awaited and well deserved Royal pardon for Alan Turing, the maths and computer genius, hounded for his homosexuality after WW2 until he eventually committed suicide. It's worth also I think remembering two great Asia Hands who worked at Bletchley which also worked, successfully, on cracking Japanese codes as well as German during the war.
Hugh Foss (above) was a major figure at Bletchley. He had the good fortune to be born in Kobe, Japan, the son of a British missionary bishop. His Japanese was excellent and followed by a good old English public school education and a stint at Cambridge. Foss joined the Government Code and Cipher School in the 1920s and worked on cracking the Enigma codes but it was his Japanese skills that lead in large part to the breakthroughs that cracked the Japanese Naval Attache ciphers in 1940 and saved so many British and American lives during the war in the Pacific. Between 1942 and 1943 Foss headed up the Japanese section at Bletchley and later moved to Washington to share his knowledge and help the American codebreakers delve deeper into the Japanese naval codes. As a true Bletchley eccentric, Foss always wore sandals and became known in America as the "Lend-Lease Jesus".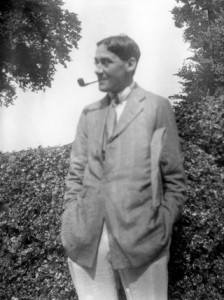 A close colleague of Foss's on the Japanese codes was Oliver Strachey (above), brother of the writer Lytton Strachey. At Oxford he became something of an Asia Hand writing part of the great history of Bombay published in 1916. Strachey too joined the Government Code and Cipher School in the 1920s where he worked with Foss on cracking Japanese codes, as early as 1934. Stachey also later moved to Washington to share expertise on both Japanese and Vichy French codes with the Americans. Amazingly, and unlike Foss, Strachey didn't speak Japanese – amazing as cracking their codes regarded a high level of familiarity with  variations of kanji, hiragana, and romanization.
And finally, a history of the prominent Asia Hands at Bletchley during the War should also include John"The Brig"  Tiltman, a great cryptographer who had also previously worked for the Government Code and Cipher School in the 1920s where he cracked codes for the British Army Headquarters in Simla allowing them to read Russian diplomatic cypher traffic from Moscow to Kabul, Afghanistan and Tashkent, Turkestan. At Bletchley Tiltman was deeply involved in cracking the Japanese codes too.
Three amazing Asia Hands who saved thousands of lives and shortened the war through their work and Asian knowledge. If I've missed any major Asia Hands who were active cryptographers or code breakers at Bletchley then please do let me know…..And for a lot, lot more on this subject do look out for Michael Smith's The Emperor's Codes: Bletchley Park's Role in Breaking Japan's Secret Cyphers.
the Mansion at Bletchley Park today – go visit…
---